ZLINE 48 in. Professional 6.0 cu. ft. 7 Gas Burner/Electric Oven Range in Stainless Steel (RA48)
Specification
Options: No Option
Mount Type: Free Standing
Material & Finish: Stainless Steel frame with 1 Piece Porcelain Top- Italian made hinges and burners
Lighting: Dual Lighting
Control Panel: Durable Front Control Knobs with Five Different Functionalities
Warranty: 1 Year
Cooktop: (7) Burners with Porcelain Cook Top with electronic spark ignition for all burners
Dimension: 48" W x 27.38" D (29" with handle) x 36" H
Style: Stainless Steel
Features:
Manufactured by ZLINE Kitchen and Bath
Model No. RA48
(Wok ring no longer available)
Fuel Type: Convection Oven- Gas Cooktop
Oven: Electric Convection Oven- 6.0 cu.ft. deep oven- Triple Glass Window- Dual Lighting-Manual Clean
Red indicator light shuts off to let you know when oven has gotten to temperature
Product Weight: 270lbs
Voltage: Requires a minimum of 220V-240V/60HZ/30A
UPC: 817299022879
BTU Rating:
Dual Wok (x2) - 18,000 BTU
Rapid Burner - 13,000 BTU
Griddle Burner - 13,000 BTU
Semi-Rapid Burner (x2) - 8,500 BTU
Auxiliary Burner - 4,200 BTU
Experience Attainable Luxury® with the ZLINE 48" Dual Fuel Professional Range. Combining both professional aesthetics and functionality, this range provides the ultimate luxury experience for a fraction of the cost. Achieve optimal results with cooktop cooking power from 4,200 up to 18,000 BTUs provided with sealed burners. Rely on precise and even heating for every homemade dish with an electric convection oven.
Enjoy an ultra-deep oven capacity with a three-layered insulated glass oven for efficient cooking every use. With upgraded premium features such as SmoothSlide ball-bearing oven racks, dual lighting, and adjustable legs, this range is certain to wow both the chef and guests alike.
Assembled with the highest quality materials on the market, this range offers a durable, scratch-resistant porcelain cooktop and ZLINE's exclusive single piece cast iron grate. Cook with ease with StayPut Italian hinges, providing a safe baking environment to enjoy for years to come.
ZLINE stands by the longevity and durability of their professional ranges, while ensuring further protection and peace of mind with a worry-free warranty. The ZLINE Dual Fuel Range ships next business day when in stock.

ZLINE ranges include many unique features such as:
• Solid-piece cast iron grate - heavy duty and built to last
• Handcrafted, high quality Italian Burners imported directly from Italy
• Twist legs to adjust total range height anywhere from 36" to 38.5"
• Every range comes equipped with an LP conversion kit to convert from natural gas to propane; this conversion process must be done by a professional


Description
Three-Layer Glass Oven
• An oven with three layers of glass and dual lighting.
• Professional aluminium mesh seal for optimum insulation. 
• Crystal clear visibility to see inside your oven while cooking.
• Oven light controlled by light switch located on the front control panel.

Stay-Put Hinges
• ZLINE's proprietary stay-put hinges.
• Designed to support full weight of oven door and stop at any place.
• Durable and effective, with a smooth action.

Italian Burners
• Handcrafted, high quality Italian Burners imported directly from Italy.
• Premium alloy to ensure efficient and clean-burning flames.
• Durable and easy to clean. Italian burners easily detach for a simple clean.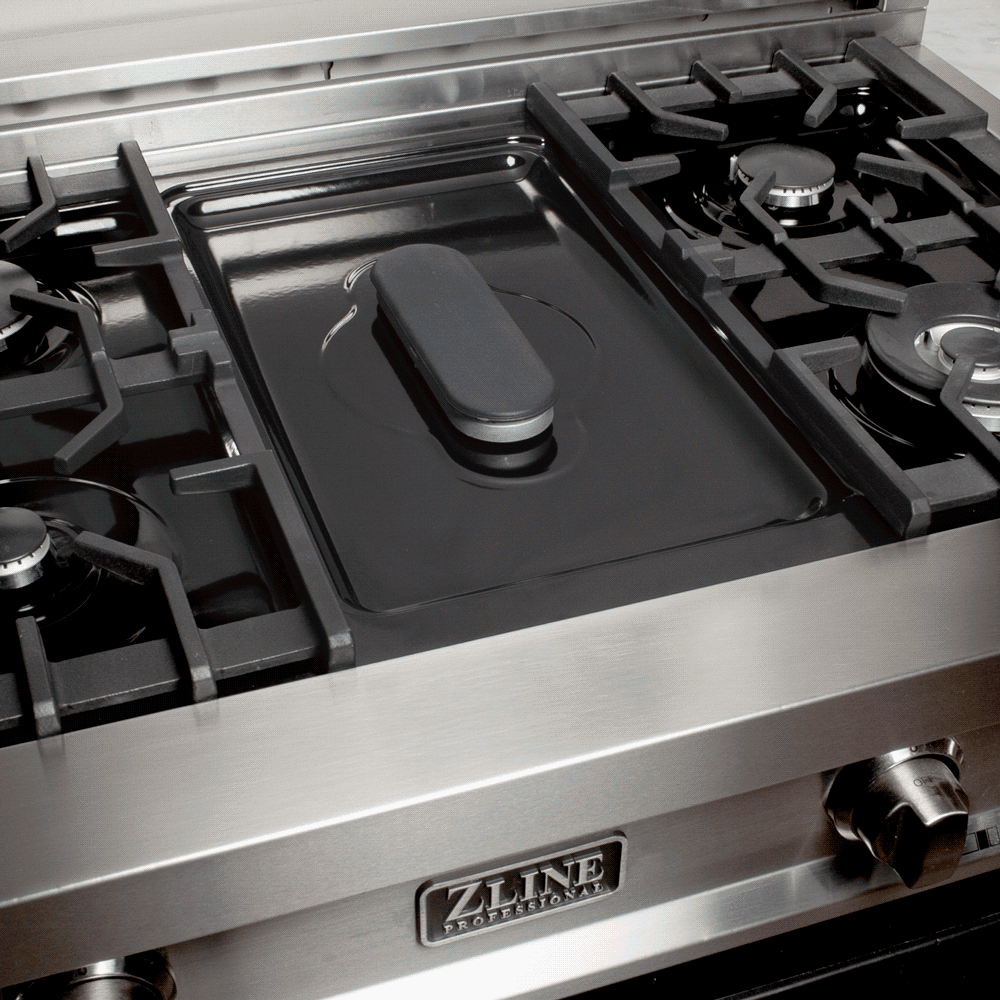 Porcelain Cooktop
• Heavy duty Italian made porcelain one-piece cook top.
• 4 burners provide the perfect range of cooking power from 2,800 to 11,400 BTU's.
• One-piece cooktop allows for an easy to clean surface - no crevices that can hold residue.
• No-scratch porcelain designed to handle every cooking environment.

Cast Iron Grill
• Solid-piece cast iron grill - heavy duty and built to last.
• Extremely durable, with an exceptional strength-to-weight ratio.